"He's been everywhere, but only for an hour" - - - - American Photographer Magazine
David Burnett is a photojournalist with more than 5 decades of work covering the news, the people, and visual tempo of our age. He is co-founder of Contact Press Images,the New York based photojournalism agency, now entering its 42nd year. In a recent issue of American Photo magazine Burnett was named one of the "100 Most Important People in Photography." (That made his mom very happy.) In the spring of 2018, David was awarded the Sprague Award for Lifetime Achievement from the National Press Photographers Assn., though he claims he is trying to figure out what his subsequent 'lifetime' work will be. Here on this site are images of history unfolding: war, sport, politics, the famous, the infamous, and the Unfamous. Work is constantly being added, so come back and see one person's view of what our world of the past 40+ years looks like. In a world gone mad over digital photography, his kit includes a 70 year old Speed Graphic press camera, and a plastic $30 HOLGA. Each has a place along side his digital cameras, each camera a tool to find the right look for the right moment. The May/June 2010 issue of American PHOTO did a 10 page story on David, and his unique talent for staying ahead of the times. In July, 2011, David worked with Photographers for Hope to create a workshop for homeless news vendors in Glasgow, Scotland. Their work (see here) is a really wonderful show of what photography can do, when there is motivation. In late 2015 Photographers For Hope came to Newburgh NY shooting for a week and doing a 100 print show at the Ann St. Gallery. A book of those images -- "Newburgh Rising" -- was published -- in 2017.
In the early 2018, the National Press Photographers Assn. in the USA
awarded David the Joseph Sprague award for Lifetime Achievement
here is a link to that bit of news:
He recently taught workshops at the GulfPhotoPlus.com festival in Dubai - a long way on an airplane to get there but really great fun. In November 2017 David led the "Big Game" workshop at Stanford University - Palo Alto. It was great fun, following the century old Cal-Stanford football rivalry. He writes, too - sort of -- check out the blog ( werejustsayin.blogspot.com ) he writes with his wife Iris.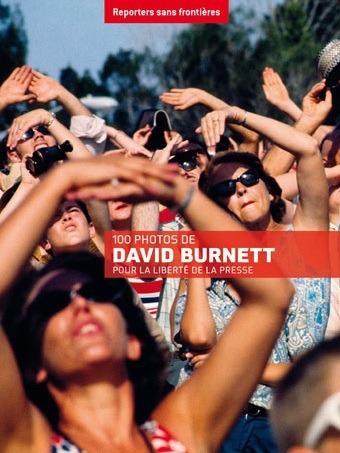 Reporters Without Borders has published "100 Photos for Freedom of the Press" featuring a whole career's worth of David's work. The publication, which helps support R.W.B. is available by mail order: If you click here, you can order one
He's served three times on the jury of World Press Photo (Holland) and been the Chairman twice. He has also been a judge of the prestigious International Landscape Photography contest - this year with some 3500 images entered.

Here is an interview with PhotoShelter's Grover Sanschagrin on the subject of "what's in your bag?"
David appeared with Robert Caplin on his "Photo Brigade" podcast... see it here: https://www.youtube.com/watch?v=PZ6GT6MAZ28